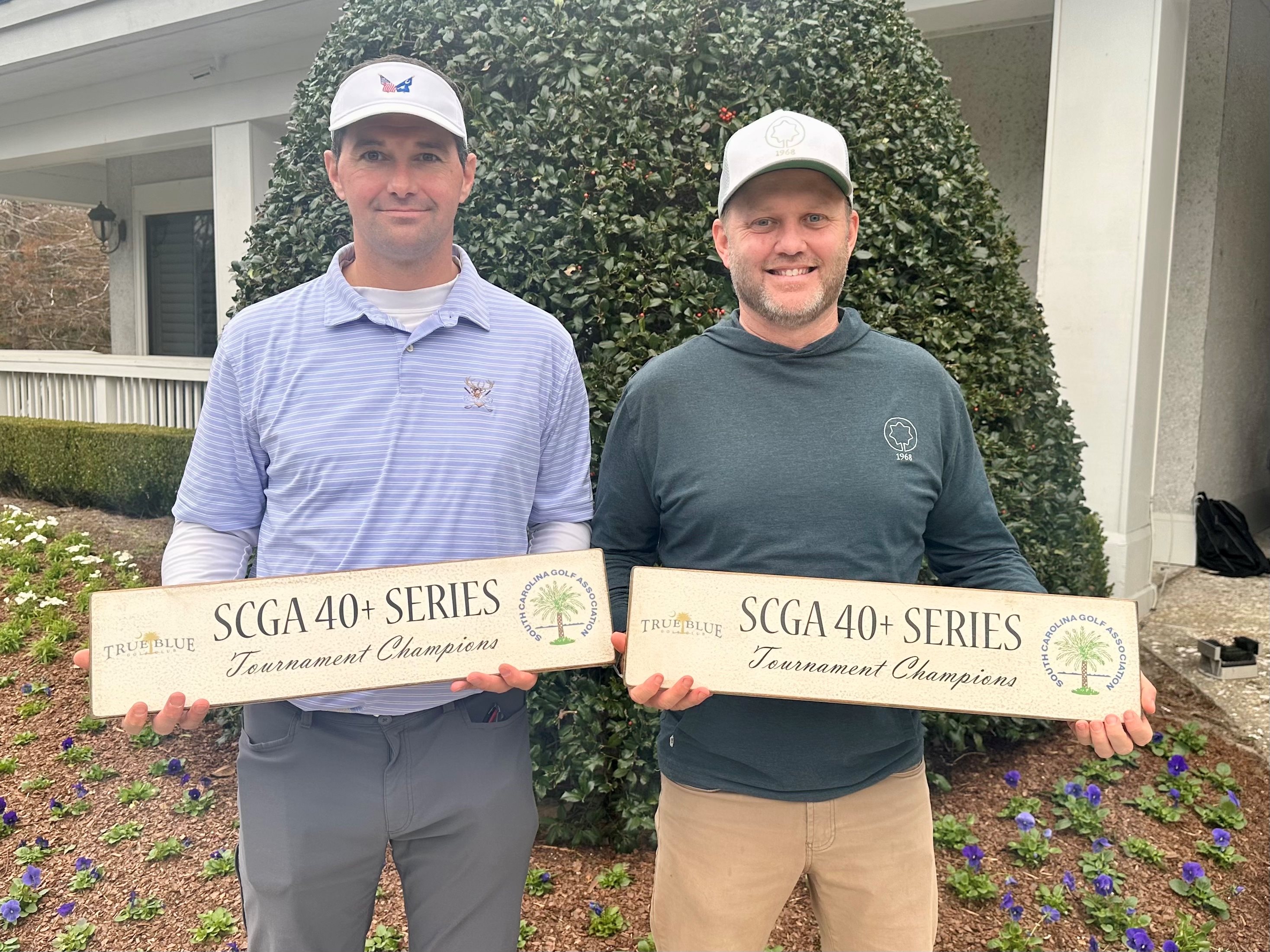 Eassy and Revis Claim Victory at Forty Plus Finale
Pawleys Island, SC (Dec. 5, 2022) – Final results of the SCGA Forty Plus Series Finale Event hosted by True Blue Golf Club in Pawleys Island, SC on Monday, December 5th, 2022.
Forty Plus Links: Final Scores & Results | Club Website | Forty Plus Event Website | Final Media Results
Chris Eassy (Simpsonville) & Jeremy Revis (Greenville) claimed top honors at the SCGA's Forty Plus Series Finale event of 2022 that was contested over two days at True Blue Golf Club, after the duo recorded a two-day better ball total of 16 under par 128. Mike Cobb (Summerville) and T.A. Fulmer (Charleston) finished alone in second place after a final round score of 67 and tournament total of 133.
In the Tournament Net Division, Henry Lancaster (Wagener) and Bryan Tune (Columbia) finished the event with a net total of 18 under par 126 to win the division. David Gibson (Lexington) and Jamon Hardwick (Lexington) finished in second place with a two-day net total of 128.
In the Senior Gross Division, Eddie Hargett (Blythewood) and Dan Sullivan (Columbia) captured the victory after a final round score of 63 and a tournament total of 18 under par 126. Dean Nance (Greenville) and Doug Ramey (Greer) finished just six shots off the lead to finish with a gross total of 132.
In the Senior Net Division, Jim Childers (Hopkins) and Lee Trawick (Blythewood) finished atop the leaderboard with a two-day net total of 15 under par 129.
For full tournament information including detailed scoring, pairings, and results visit our tournament web page – SCGA Forty Plus Finale
The 40 Plus is a series of events conducted for golfers across South Carolina, over the age of 40. The Forty Plus Finale is a two-day event that was conducted on Sunday and Monday at True Blue Golf Club in Pawleys Island, SC. This event was the final 40 Plus event the SCGA will conduct in 2022.


About the South Carolina Golf Association (SCGA)
A non-profit organization founded in 1929, the SCGA's purpose is to promote, preserve and serve the game of golf. The SCGA annually conducts Statewide championships, one-day contests, a series of 40-plus events and the overseeing of USGA qualifiers in our State. Other member services offered include use of GHIN services / Handicap Index computation, Golf Genius - a Tournament Software System, Rules of Golf and Rules of Handicapping education, Course Ratings/Slope Ratings and Course measuring, Amateur Status information, the Palmetto Golfer Magazine, the MySCGA App, the official podcast of the SCGA - Off the Hosel and the SC Golf Hall of Fame. The SCGA also houses the offices of the SC Junior Golf Foundation and SC Junior Golf Association in a combined effort to support junior golf and grow the game's initiatives.
For more information about the South Carolina Golf Association, visit www.scgolf.org