Put the South Carolina golf world at your fingertips with a personalized mobile experience that allows you to manage & follow your game right from your own phone.
New for 2021, the MySCGA App features include:
Score posting
Comprehensive Performance Statistics including hole-by-hole stats (GIR, Putts, Fairways, and more)
SCGA Championship registration, schedules and results
Handicap Lookup & updated Course Handicap calculator & Course Rating/Slope database
SCGA Member Club Directory
SCGA news articles and videos
Access to the Palmetto Golfer - The Official Magazine of the South Carolina Golf Association.
*Available for FREE download on iOS and Android devices*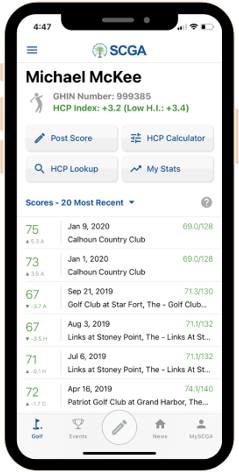 Golf
Through the homepage of the MySCGA App, members will have the access to personalized GHIN integration, scoring posting at your fingertips after each round, comprhensive performance statistics and handicap lookup and calculator.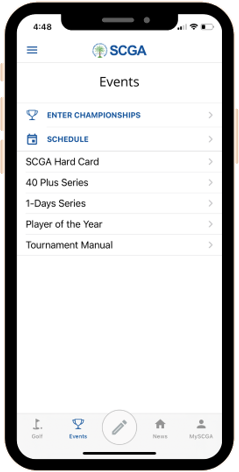 Events
On the events section, SCGA Members will have access to register for major championships, 40+ Series events, One-Day events across the state and keep track of SCGA Player and Senior Player of the Year on their mobile device.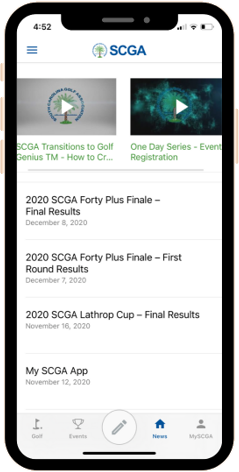 News
Stay in the know and follow all SCGA coverage of events from tournaments recaps and results to informative videos about the South Carolina Golf Association.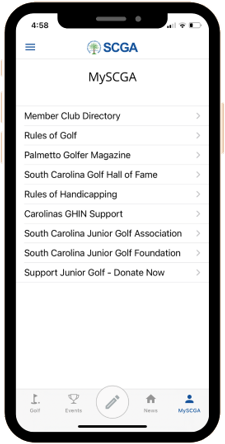 MySCGA
The MySCGA section of the app will also include access to member links, the Palmetto Golfer Magazine and allow members to stay connected with up-to-date information on the SCJGA and SCJGF.
SCGA Mobile App Privacy Policy
All material contained in this mobile application is exclusively owned by the South Carolina Golf Association and the United States Golf Association. Any reproduction without the express written consent of these two parties is prohibited. You are an SCGA member, have played in an SCGA event, or shared your contact information with the SCGA to receive Handicap updates and other member offers via email. Your personal information will be kept private, is not publicly accessible and will never be given out or sold to any third party.