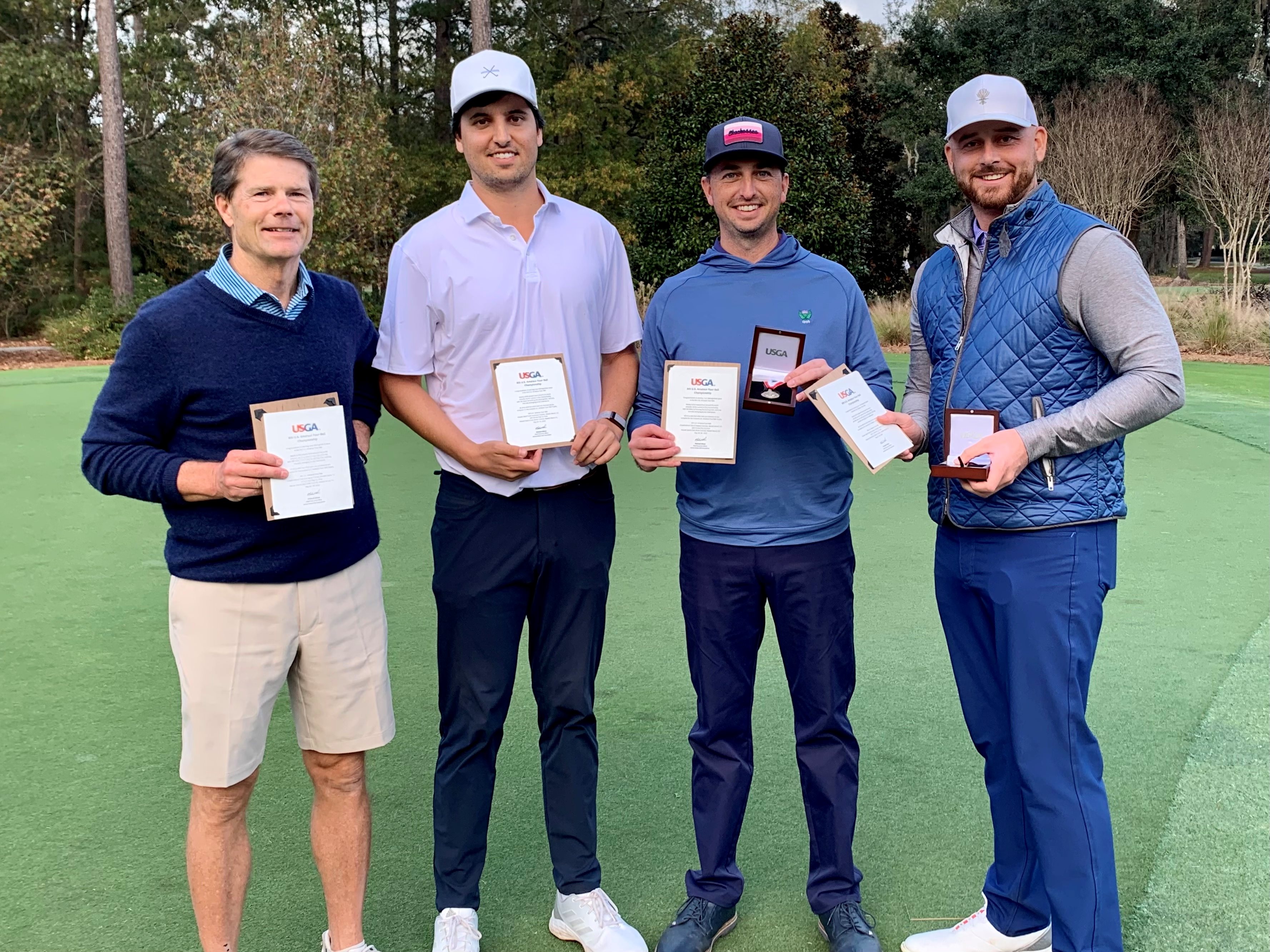 Two Teams Advance to 2023 U.S. Four-Ball Championship from Oldfield Qualifier
Okatie, S.C. - The team of Stephen Seiden (Newtown Square, PA) and Ryan Clancy (Bluffton, SC) along with the team of Jack Larkin, Sr. (Atlanta, GA) and Hayes Brown (Charlotte, NC) have both qualified at the Oldfield Club (7,142, Par 72) in Okatie, SC to play in the 2023 US Amateur Four-Ball Championship. Seiden and Clancy were the qualifying medalists after an eight under par round of 64.
The team of Austin Morgan (Charleston, SC) and Troy Miller (Charleston, SC) will be the first alternates while the team of Bradley Kauffman (Greenville, SC) and Nick Eberhardt (Charlotte, NC) will be the second alternate team.
50 sides started the day playing for two spots and two alternate positions to participate in the 2023 United States Amateur Four-Ball Championship that will be conducted at the Kiawah Island Club (Cassique & River Course) in Kiawah Island, SC on May 20-24, 2023.
For more information about this 2023 US Four-Ball Qualifying Event including final results, pairings, detailed scoring and other tournament info - 2023 USGA Four-Ball Qualifying
This qualifier was conducted by the South Carolina Golf Association on behalf of the United States Golf Association and the Carolinas Golf Association.


About the South Carolina Golf Association
The SCGA's purpose is to promote, preserve and serve the game of golf. Founded in 1929, the SCGA is a non-profit organization made up of more than 270 member clubs and over 60,000 individual members. The SCGA annually conducts Statewide championships, one-day contests, a series of 40-plus events and the overseeing of USGA qualifiers in our State. Other Member services offered include GHIN – the USGA Handicap Computation System, Golf Genius - a Tournament Software System, Rules of Golf and Handicap education, USGA Course/Slope Ratings and Course measuring, Amateur Status information, the Palmetto Golfer Magazine, the MySCGA App, the official podcast of the SCGA - Off the Hosel and the SC Golf Hall of Fame. The SCGA also houses the offices of the SC Junior Golf Foundation and SC Junior Golf Association in a combined effort to support junior golf and grow the game's initiatives.