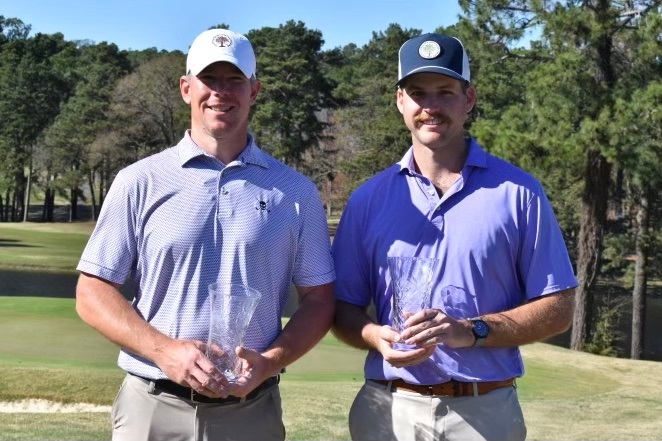 Bell & Lutomski Capture Victory at SCGA Partners Championship
30th SCGA Partners Championship
Spring Valley CC & The Spur at Northwoods
Columbia, SC
March 4-5, 2023
Bell & Lutomski Capture Victory at SCGA Partners Championship
Weston Bell
(Piedmont) and
Robert Lutomski
(Simpsonville) have claimed the victory at the SCGA's 30
th
Annual Partners Championship after a commanding final round of 59 and a tournament score of 25 under par 119. Starting the final round wedged in a four-way tie, the upstate duo compiled two eagles, nine birdies, and seven pars in a Modified Texas Scramble format to ultimately win the Partners Championship by two strokes over the defending champion team of
Zach Herold
(Lexington) &
Sam Jackson
(West Columbia). In the First Flight of the Championship Division, there was a two-way tie between the team of
Luke Coates
(Florence) &
Landis Lane
(Florence) and the team of
Jordan Sease
(Lexington) &
Evan Phillips
(West Columbia) after both teams finished with tournament totals of 16 under par 128.
Will Durrett
(Aiken) and
Brian Quackenbush
(Aiken) won the Second Flight of the Championship Division with a 15 under par two-day total of 129.
In the Tournament Division,
Duane Barnes
(Simpsonville) and
Dennis Schwab
(Simpsonville) captured the overall victory by two shots after a two-day total of 16 under par 128. The First Flight of the Tournament Division finished as a three-way tie at nine under par 135 between the team of
Jeff McLain
(Gilbert) &
Zach McLain
(Gilbert), team of
Chris Campbell
(Mount Pleasant) &
Michael Moseley
(Hanahan), and the team of
Matt Faulkner
(Simpsonville) &
Josh Ridley
(Orangeburg). The Second Flight of the Tournament Division was won by
Rick Ingle
(Winnsboro) &
Tim Eich
(Columbia) after a tournament score of ten under par 134.
Partners Championship Links:
Final Scores & Results
|
Partners Championship Site
|
Final Round Media Results
The 2023 SCGA Partners Championship was played at both Spring Valley Country Club and The Spur at Northwoods. The field consisted of 98 two-man teams playing Captains Choice in the first round and a Modified Texas Scramble in the final round. The Championship Division competed at The Spur at Northwoods on day one and Spring Valley Country Club on day two, vice versa for the Tournament Division. The Partners Championship is in its 30
th
year of existence and is a fund raiser for the South Carolina Junior Golf Association.
About the South Carolina Golf Association (SCGA)
A non-profit organization founded in 1929, the SCGA's purpose is to promote, preserve and serve the game of golf. The SCGA annually conducts Statewide championships, one-day contests, a series of 40-plus events and the overseeing of USGA qualifiers in our State. Other member services offered include use of GHIN services / Handicap Index computation, Golf Genius - a Tournament Software System, Rules of Golf and Rules of Handicapping education, Course Ratings/Slope Ratings and Course measuring, Amateur Status information, the Palmetto Golfer Magazine, the MySCGA App, the official podcast of the SCGA - Off the Hosel and the SC Golf Hall of Fame. The SCGA also houses the offices of the SC Junior Golf Foundation and SC Junior Golf Association in a combined effort to support junior golf and grow the game's initiatives.
For more information about the South Carolina Golf Association, visit www.scgolf.org