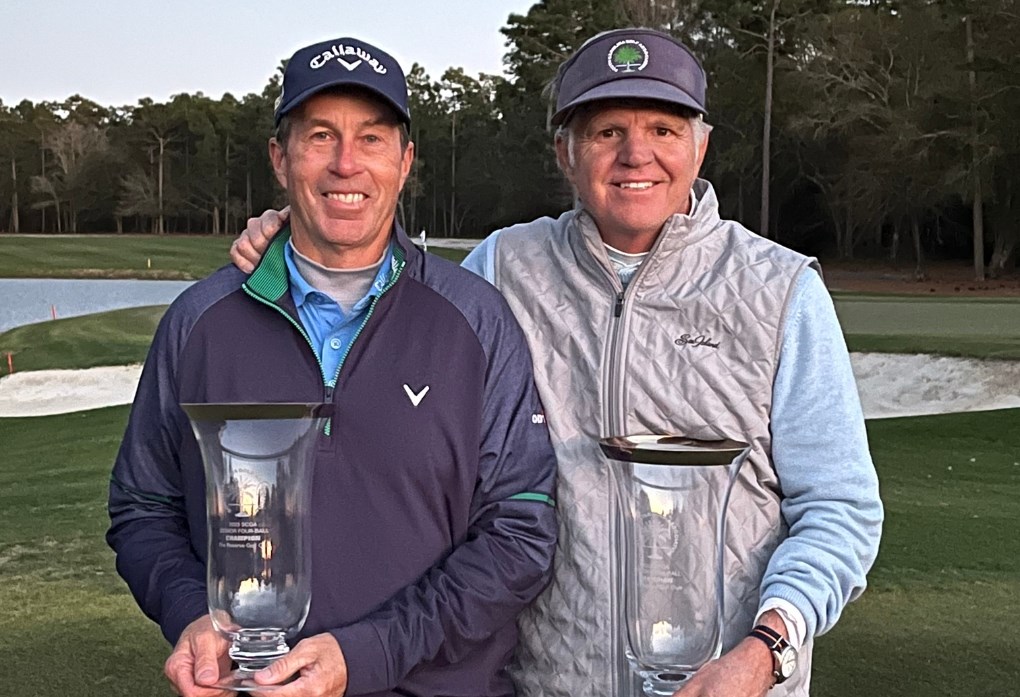 Hargett and Todd Claim Senior Four-Ball Title
PAWLEYS ISLAND, SC - Another unseasonably cold morning greeted those playing in the morning wave of the 30th SCGA Senior Four-Ball Championship, but sunny blue skies prevailed in the afternoon.
After a tournament low round of seven under par 65, Tim Teaster (Cayce) and Sammy Truett (Surfside Beach) found themselves in a two-way tie with Walter Todd (Laurens) and Eddie Hargett (Blythewood).
After trading pars on the first two holes of the sudden death playoff, Todd and Hargett claimed the title with a Walter Todd birdie on the par four tenth hole to claim the championship. The duo opened the tournament with a bogey free round of five under par 67 and followed it up with a closing round of four under par 68. Todd and Hargett carded only one bogey over 36 holes.
For full information including pairings, detailed scoring, and full results – SCGA Senior Four-Ball Championship
The 2023 SCGA Senior Four Ball Championship was played on the par 72 – 6,408 yard Greg Norman designed Reserve Golf Club in Pawleys Island, SC. The field consisted of 58 two-man teams playing Best Ball format conducted over thirty-six holes. The Senior Four-Ball Championship is one of 22 Major Championships conducted annually by the South Carolina Golf Association.
About the South Carolina Golf Association (SCGA)
A non-profit organization founded in 1929, the SCGA's purpose is to promote, preserve and serve the game of golf. The SCGA annually conducts Statewide championship s, one-day contests, a series of 40-plus events and the overseeing of USGA qualifiers in our State. Other member services offered include use of GHIN services / Handicap Index computation, Golf Genius - a Tournament Software System, Rules of Golf and Rules of Handicapping education, Course Ratings/Slope Ratings and Course measuring, Amateur Status information, the Palmetto Golfer Magazine, the MySCGA App, the official podcast of the SCGA - Off the Hosel and the SC Golf Hall of Fame. The SCGA also houses the offices of the SC Junior Golf Foundation and SC Junior Golf Association in a combined effort to support junior golf and grow the game's initiatives.
For more information about the South Carolina Golf Association, visit www.scgolf.org