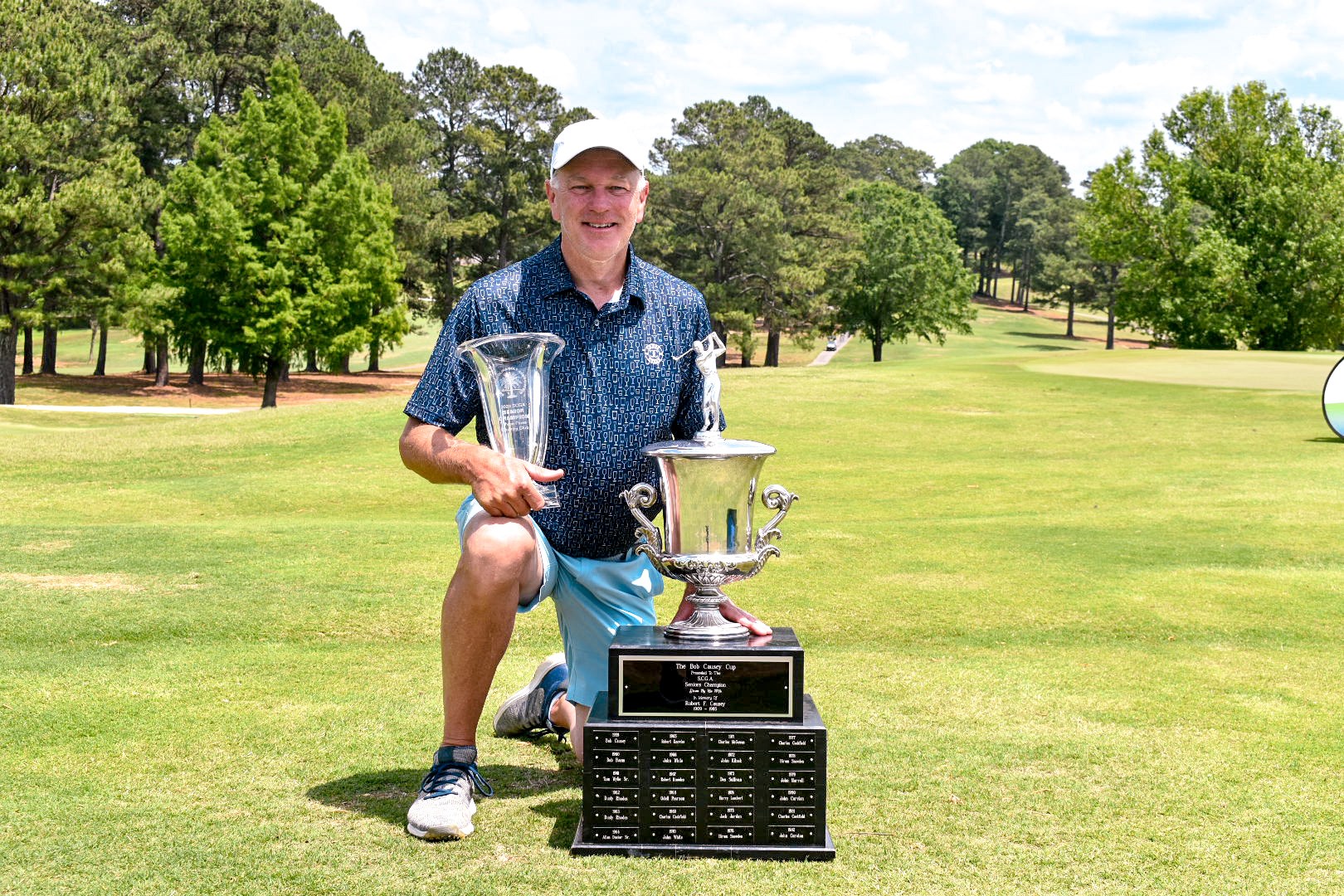 Ron Schroder Claims the 65th Senior Championship Title
WOODRUFF, SC (May 11, 2023) – Final round results of the 65th SCGA Senior Championship, hosted by Three Pines Country Club in Woodruff, SC on Thursday, May 11, 2023.
Championship Links: Final Scores & Results | Championship Website | Photo Gallery
Ron Schroder of Seneca posted an impressive three-day tournament total of two-under par 214 to secure the 65th SCGA Senior Champion title. Firing three birdies today and finishing with a final round score of one-over par 73, Schroder was able to maintain the lead from start to finish.
"The day started off very well," said Schroder. "I birdied the second and third hole and that put me in a good position. I hit my driver great for three days and that really takes a lot of pressure off the game. I was hot and cold with my putter, but all in all it was a fantastic tournament for me. To play three solid rounds is pretty special and it really does feel great to be the champion."
Eddie Hargett of Blythewood and Chris Koon of Simpsonville tied for second place, each finishing with an overall tournament score of one-over par 217.
The 2023 SCGA Senior Championship was played on the par 72 - 6,359 yard course at Three Pines Country Club in Woodruff, SC. The starting field consisted of 92 players over the age of 55. There was a cut to the low 50 and ties after 36 holes. The Senior Championship is one of 21 Major Championships conducted annually by the South Carolina Golf Association.

About the South Carolina Golf Association (SCGA)
A non-profit organization founded in 1929, the SCGA's purpose is to promote, preserve and serve the game of golf. The SCGA annually conducts Statewide championships, one-day contests, a series of 40-plus events and the overseeing of USGA qualifiers in our State. Other member services offered include use of GHIN services / Handicap Index computation, Golf Genius - a Tournament Software System, Rules of Golf and Rules of Handicapping education, Course Ratings/Slope Ratings and Course measuring, Amateur Status information, the Palmetto Golfer Magazine, the MySCGA App, the official podcast of the SCGA - Off the Hosel and the SC Golf Hall of Fame. The SCGA also houses the offices of the SC Junior Golf Foundation and SC Junior Golf Association in a combined effort to support junior golf and grow the game's initiatives.
For more information about the South Carolina Golf Association, visit www.scgolf.org