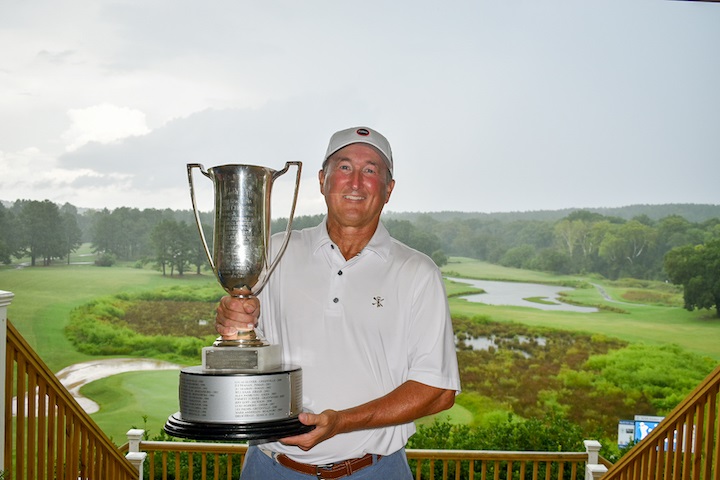 33 Years Later Todd White Re-Claims the SCGA Amateur Champion Title
CLINTON, SC (August 6, 2023) – Final round results of the 92nd SCGA Amateur Championship hosted by Musgrove Mill Golf Club in Clinton, SC on Sunday, August 6, 2023.
Championship Links: Final Scores & Results | Club Website | Championship Website
It was a tight race at the top of the leaderboard heading into the final round of the 92nd SCGA Amateur Championship this morning between Todd White of Spartanburg and Rafe Reynolds of Greenville.
Finishing the day with an overall score of 10-under par 278, 1990 SCGA Amateur Champion, Todd White was crowned champion of the 92nd SCGA Amateur Championship at Musgrove Mill. White had two birdies today and posted a final round score of even-par 72 to re-claim the title and become a 2X SCGA Amateur Champion.
"I got off to a great start today," White said. "I managed to keep the ball in play and keep everything in front of me. I'm really at a loss for words right now. I'm 55 years old so I really enjoy teeing it up against the college kids just to see how my game stacks up, and I'm very proud of the longevity for which I've been able to remain competitive. But for me, this really validates a lot of the hard work I put in to be able to continue to compete."
Rafe Reynolds was named runner-up, finishing the tournament one-shot behind White at nine-under par 279 overall.
Wade Wawner of Charleston carded an overall score of six-under par 282 to claim the third-place position.
The SCGA would like to offer a special thanks to all of our 92nd Amateur Championship sponsors, as well as the membership, staff and volunteers at Musgrove Mill Golf Club for their generous contributions and gracious hospitality in effort to make the 92nd SCGA Amateur Championship a huge success.
About the South Carolina Golf Association (SCGA)
A non-profit organization founded in 1929, the SCGA's purpose is to promote, preserve and serve the game of golf. The SCGA annually conducts Statewide championships, one-day contests, a series of 40-plus events and the overseeing of USGA qualifiers in our State. Other member services offered include GHIN – the USGA Handicap Computation System, Golf Genius - a Tournament Software System, Rules of Golf and Handicap education, USGA Course/Slope Ratings and Course measuring, Amateur Status information, the Palmetto Golfer Magazine, the MySCGA App, the official podcast of the SCGA - Off the Hosel and the SC Golf Hall of Fame. The SCGA also houses the offices of the SC Junior Golf Foundation and SC Junior Golf Association in a combined effort to support junior golf and grow the game's initiatives.
For more information about the South Carolina Golf Association, visit www.scgolf.org