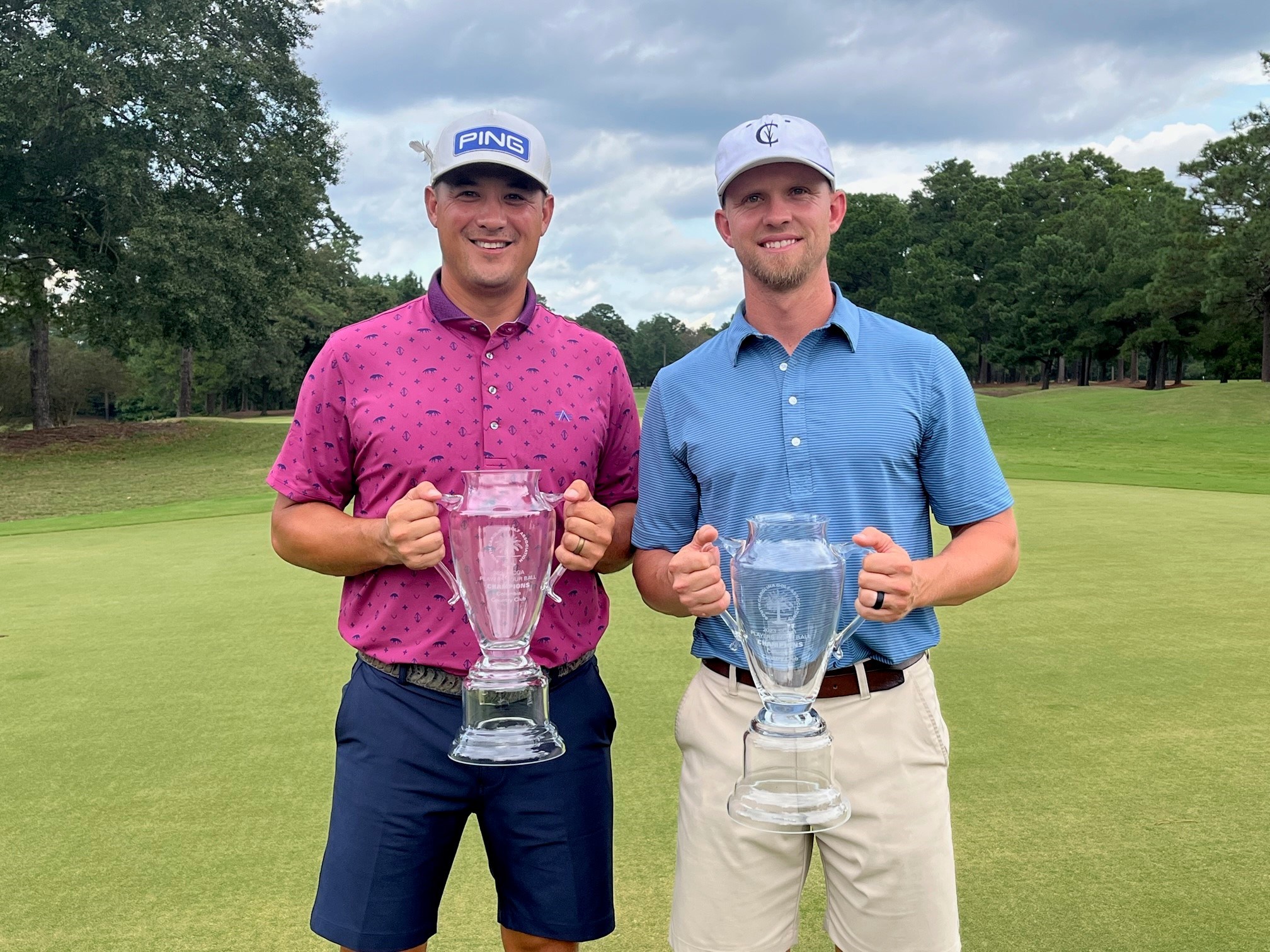 Ezelle and Gallman Claim Players Four-Ball Championship Title
BLYTHEWOOD, SC (Sept. 10, 2023) – The team of Daniel Ezelle (Taylors) and Josh Gallman (Boiling Springs) have claimed the 2023 SCGA Players Four-Ball Championship after following up their opening round 66 with a final round 64 for a tournament total of 14 under par 130.
Championship Links: Scores & Results
Ezelle and Gallman would capture the victory with an Ezelle birdie on the first hole of a sudden death playoff.
Finishing in a tie for second after the playoff were the teams of Robbie Biershenk (Boiling Springs) and Nick Biershenk (Duncan) along with Levi Joiner (Prosperity) and PJ Jacobs (Prosperity).
The field was split into four flights for Sunday's final round based on first round scores (Flights: Championship, First, Second, Third).
Three teams finished tied atop the First Flight at 10 under par 134, Chris Eassy (Simpsonvile) & Scott Friday (Simpsonville), Nicholas Beiers (Hartsville) & Dixon Walker (Columbia), and James Lightsey (Rock Hill) & Brandon Truesdale (Indian Land).
The Second Flight was won by the duo of Chris Campbell (Mount Pleasant) and Jay McDougall (Daniel Island) with a total seven under par 137.
The team of John Asay (Blythewood) and Brian Lee (Columbia) finished in first in the Third Flight with a tournament total of one under par 143.
For more information about the SCGA Players Four-Ball Championship including detailed scoring, pairings, and results – 39th Players Four-Ball Championship
The 2023 SCGA Players Four-Ball Championship was played at the par 72 – 6,855 yard Columbia Country Club Ridgewood & Tall Pines courses. The field consisted of 60 two-man teams playing Best Ball format conducted over thirty-six holes. The Players Four-Ball Championship is in its 39th year of existence.
About the South Carolina Golf Association (SCGA)
A non-profit organization founded in 1929, the SCGA's purpose is to promote, preserve and serve the game of golf. The SCGA annually conducts Statewide championships, one-day contests, a series of 40-plus events and the overseeing of USGA qualifiers in our State. Other member services offered include use of GHIN services / Handicap Index computation, Golf Genius - a Tournament Software System, Rules of Golf and Rules of Handicapping education, Course Ratings/Slope Ratings and Course measuring, Amateur Status information, the Palmetto Golfer Magazine, the MySCGA App, the official podcast of the SCGA - Off the Hosel and the SC Golf Hall of Fame. The SCGA also houses the offices of the SC Junior Golf Foundation and SC Junior Golf Association in a combined effort to support junior golf and grow the game's initiatives.
For more information about the South Carolina Golf Association, visit www.scgolf.org