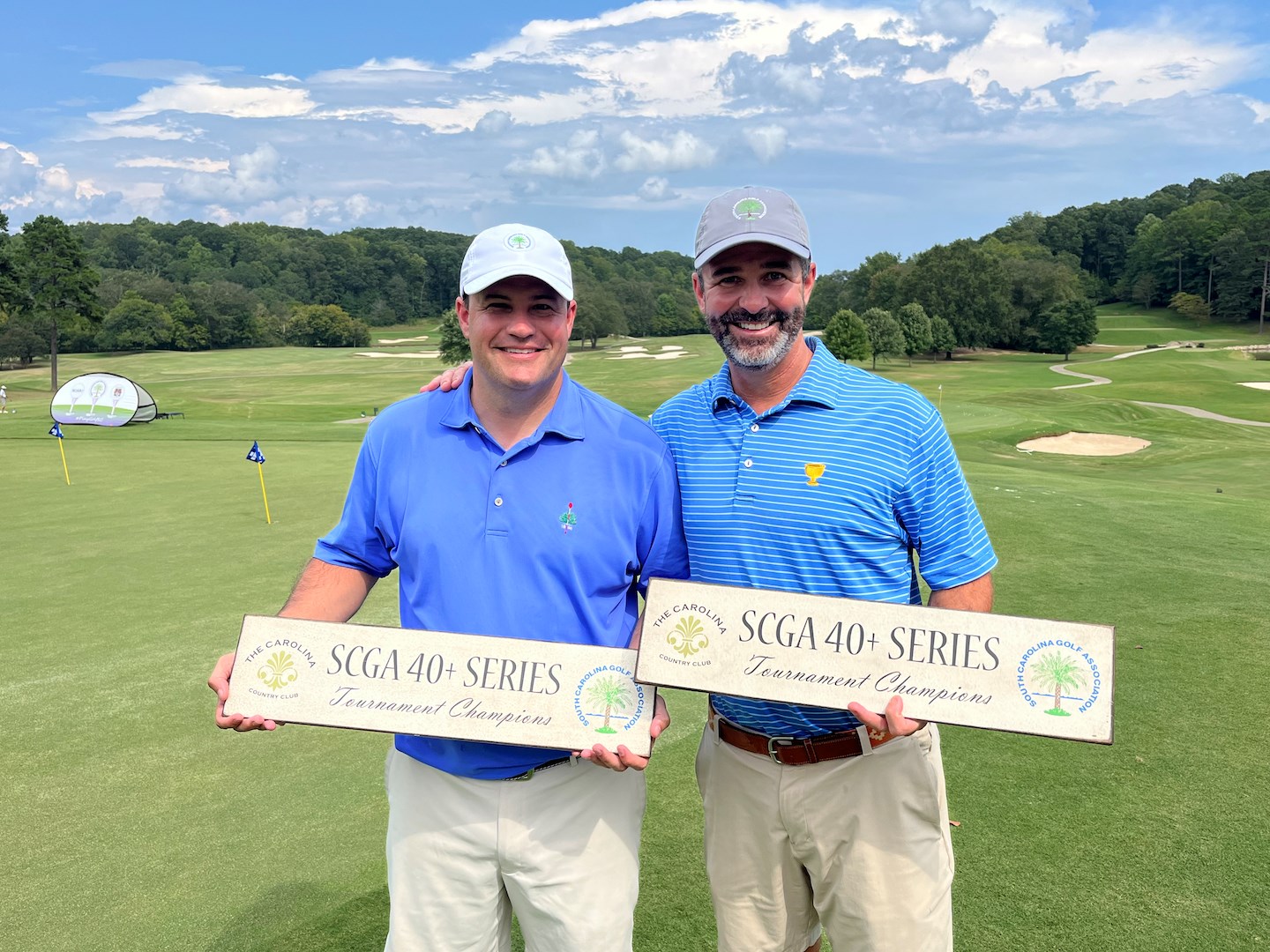 Macolly and Warren Capture Victory at Forty Plus Four-Ball Event
COLUMBIA, SC (Sept. 13, 2023) – A beautiful day and a pristine golf course greeted players at the fifth SCGA Forty Plus Series Event in 2023 at The Carolina Country Club on Tuesday.
Forty Plus Links: Final Scores & Results | Club Website | Forty Plus Event Website
In the Tournament Division, Tyler Macolly (Spartanburg) & Charles Warren (Greenville) claimed top honors with a gross better ball score of nine under par 63.
Three teams tied for second place after firing a gross team score of eight under par 64, Max Fain (Boiling Springs) & Todd Whitehead (Spartanburg), Chris Eassy (Simpsonville) & Jeremy Revis (Greenville), and Jay McAllister (Myrtle Beach) & Kyle Milner (Spartanburg).
In the Tournament Net Division, Bryan Tankersly (Greenville) and Scott Campbell (Central) finished tied atop the leaderboard with Jonathan Mathias (Elgin) & Rich Houghton (Elgin) after both teams shot a net total score of nine under par 63. Tankersly & Campbell would go on to win the scorecard playoff with a back nine net score of five under par.
In the Senior Gross Division, Michael Hanke (Spartanburg) and Craig Kopf (Spartanburg) were victorious after a six under par gross round of 66.
In the Senior Net Division, Jerry Sprouse (Greenwood) and Mike Rutland (Greenwood) finished atop the leaderboard with a net total of 59.
Terry Willis (Taylors) and Joel Stoudenmire (Taylors) took top gross honors in the Super Senior Gross Division after a round of two under par 70. Willis and Stoudenmire won the scorecard playoff over the team of Robin Alley (Columbia) and Gus Sylvan (Columbia).
In the Super Senior Net Division, Steve Scott (Inman) and Rick Oyervides (Greer) finished in first after a net round of 69.
The Forty Plus is a series of events conducted for golfers across South Carolina, over the age of 40. The field consisted of 48 two-man teams playing The Carolina Country Club in Spartanburg, SC. This event was the fifth 40 Plus event the SCGA will conduct in 2023. The next 40 Plus event will be held on November 14th at Holly Tree Country Club in Simpsonville, SC.

About the South Carolina Golf Association (SCGA)
A non-profit organization founded in 1929, the SCGA's purpose is to promote, preserve and serve the game of golf. The SCGA annually conducts Statewide championships, one-day contests, a series of 40-plus events and the overseeing of USGA qualifiers in our State. Other member services offered include use of GHIN services / Handicap Index computation, Golf Genius - a Tournament Software System, Rules of Golf and Rules of Handicapping education, Course Ratings/Slope Ratings and Course measuring, Amateur Status information, the Palmetto Golfer Magazine, the MySCGA App, the official podcast of the SCGA - Off the Hosel and the SC Golf Hall of Fame. The SCGA also houses the offices of the SC Junior Golf Foundation and SC Junior Golf Association in a combined effort to support junior golf and grow the game's initiatives.
For more information about the South Carolina Golf Association, visit www.scgolf.org