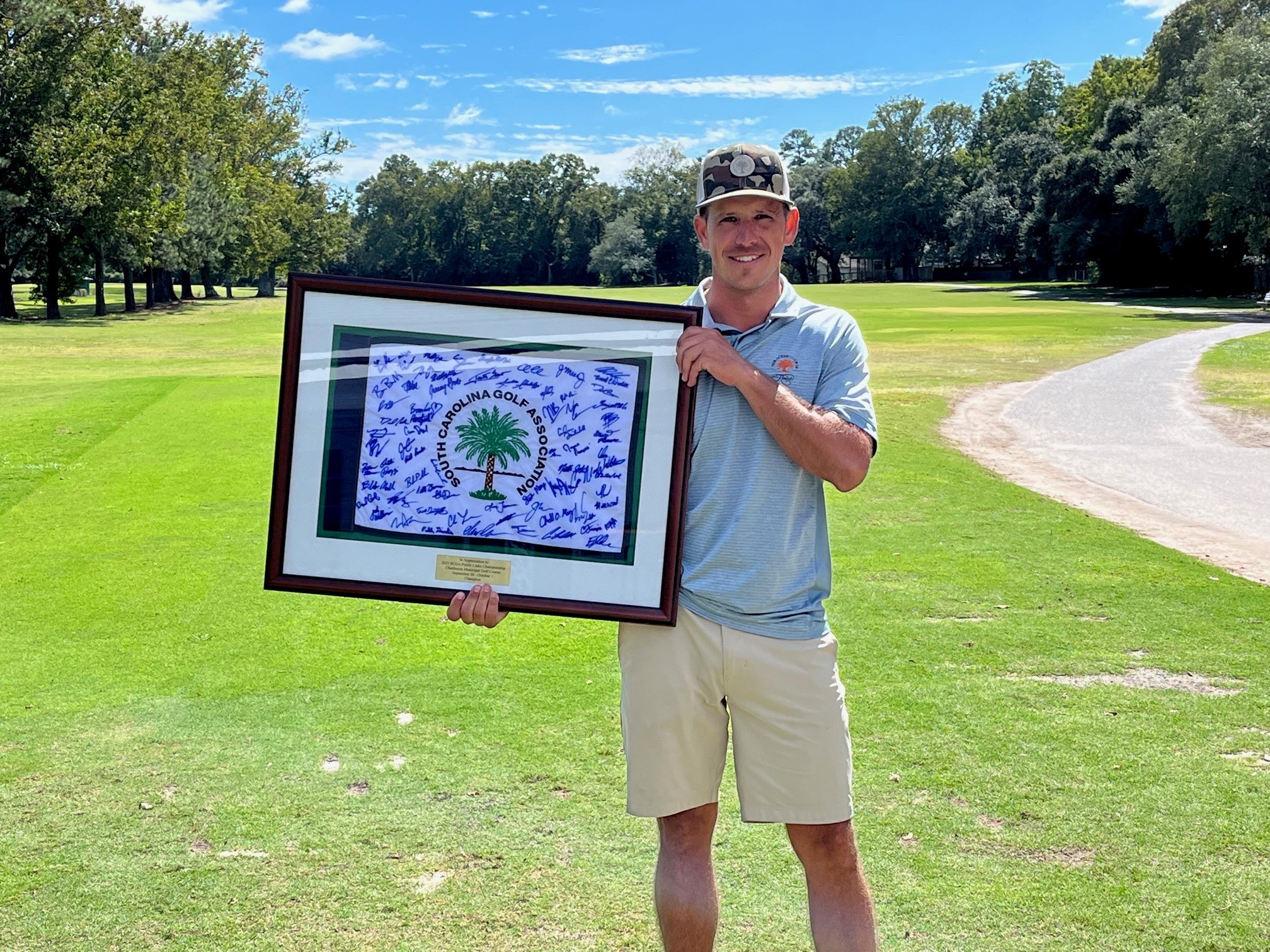 Mulkey Captures Title at Public Links Championship
Chandler Mulkey (Johns Island) captured the 2
nd
Annual Public Links Championship with a final round score of three under par 69 and tournament total of 140. Mark Stahlhuth (Charleston) and Luukas Alakulppi (Charleston) finished in a tie for second place with tournament totals of one under par 143. Connor Doyal (Charleston) finished alone in fourth place with a final round of 74 and two day total of even par 144.
The field was flighted into four flights based on first round scores for the final round. Wade Wawner (Charleston) won the first flight after a final round score of 69 and tournament total of three over par 147. Jonathan Stokke (Mt. Pleasant) finished atop the leaderboard in the second flight with a tournament total of eleven over par 155. The third flight was won by Evan Lammers (Fort Mill) with a tournament total of 163.
For more information about the SCGA Public Links Championship including detailed scoring, pairings, and results –
2nd Annual SCGA Public Links Championship
The 2023 SCGA Public Links Championship was played at the par 72 – 6,465 yard Charleston Municipal Golf Course in Charleston, SC. In an effort to continue the growth of the game in South Carolina, the idea to bring a Public Links Championship to state level was created at one of the best public golf courses in the state, the Charleston Municipal Golf Course. The field consisted of 80 individuals playing individual stroke play conducted over thirty-six holes.
About the South Carolina Golf Association (SCGA)
A non-profit organization founded in 1929, the SCGA's purpose is to promote, preserve and serve the game of golf. The SCGA annually conducts Statewide championships, one-day contests, a series of 40-plus events and the overseeing of USGA qualifiers in our State. Other member services offered include use of GHIN services / Handicap Index computation, Golf Genius - a Tournament Software System, Rules of Golf and Rules of Handicapping education, Course Ratings/Slope Ratings and Course measuring, Amateur Status information, the Palmetto Golfer Magazine, the MySCGA App, the official podcast of the SCGA - Off the Hosel and the SC Golf Hall of Fame. The SCGA also houses the offices of the SC Junior Golf Foundation and SC Junior Golf Association in a combined effort to support junior golf and grow the game's initiatives.
For more information about the South Carolina Golf Association, visit www.scgolf.org